Our History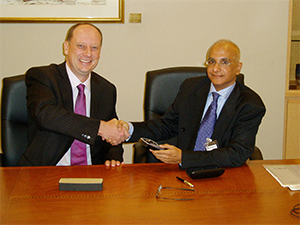 Over 25 years of experience in petrochemical, chemical, oil & gas, power and other process plant industries, including 18 months with WorleyParsons (WP – www.worleyparsons.com) as Managing Director / CEO of the Indian entity.
Instrumental in establishing WorleyParsons in India, through a JV agreement with Kirpalaney & Associates (Engineers) Private Limited (KAPL – www.kirpalaney.com) a one time 100% owned company. The JV was considered an important strategy as it provided WP a low risk entry into a high growth region. It provided a platform for delivery of WP services to existing clients in India and also immediate access to a large resource base to support WP businesses and a high value resource pool. The JV today is completely integrated with the systems of WP worldwide and has established in-house capability to service their projects.
Pre JV managed a design and detail engineering organization and maintained a position of strength because of the ability to provide quality services to the petrochemical, chemical, oil & gas, power and other process plant industries, which was later recognized by WorleyParsons to acquire KAPL.
During the tenure, have interacted and associated with the largest oil & gas/petrochemical engineering consultants and ultimate owners. Involved with projects from concept to commissioning, both as a sub contractor for design and detail engineering, as well as assisting and supporting clients to perform as a design engineering consultants with the provision of short term technically qualified personnel. The services performed were reliable, good and met all commitments on time and costs.
WorleyParsons offered to acquire 100% of the shares of the present JV effective July 1, 2008. The decision was irresistible.
Presently re-established an engineering company, under the brand name "Kirpalaney & Associates (Engineers) Private Limited", providing consulting and expertise services to the oil, gas, chemical & petrochemical industry in the ME and SEA under the same scope of services.
Experience
2006– 2008
Managing Director / CEO , WorleyParsons Kirpalaney, Mumbai
Running the Location business
Day-to-day running of the Location to achieve and exceed targeted bottom-line results, including Location EBIT
Overall responsibility of the engineering business through the COO
Providing timely and suitably comprehensive performance reports to the board
Developing and implementing Business Development plans for the Location
Keeping abreast of local industrial/commercial/community business activities, plans and future develop-ments in the local precinct
Fostering and managing effective relationships with existing and prospective local clients
Developing tenders for local projects in consultation with the Business Development managers and other parties
Ensure the availability of the capability platform (human, technical and systems) to meet local client and project demands
Oversight of the deliver of local projects in accordance with sound Project Management principles
Developing overall Location business scope, budgets and schedules
Development and implementation of Location initiatives to improve cost effectiveness.
Planning for quality outcomes in all activities of the business
Relationship with Industry Managers
Liaising with, and assisting, Industry Managers in the development of industry-specific strategic plans for the Location
In harmony with the Industry Managers, carry out the practical implementation of industry-specific strategic plans in the Location
Assisting the Industry Managers in industry competitor analyses and business development activities in the local context
Providing timely and suitably comprehensive reports to Industry Managers on industry-specific matters
HR Management
Ongoing leadership, management, team-building, mentoring, coaching and training of the people employed in the Location
Recruitment of staff and contract employees
Conduct of periodic Staff Performance and Development Appraisals and salary reviews
Ensuring compliance with WorleyParsons HR Policies and Procedures
Health and Safety
Ensuring the local implementation of the WorleyParsons Health & Safety Policy
Environment
Ensuring the local implementation of the WorleyParsons Environmental Policy.
Quality Assurance
Responsible for implementation of the provisions and guidelines of the Quality Assurance system, which are relevant to the roll out of Enterprise Management System
1995 – 2006 & 2009 – till date
Managing Director, Kirpalaney & Associates (Engineers) Private Limited (KAPL), Mumbai
Established KAPL (ISO 9001-2000) on Jan 2, 1995 and built it from a 2 man office to a 200 man of-fice, undertaking design and detail engineering services for petrochemical, chemical, oil & gas, power and other process plant industries in India and abroad – until the acquisition of KAPL as a JV partner with WP.
This acquisition was done through a process of due diligence by WorleyParsons, to recommend this acquisition to their board, which met their standards & policies of ethical & honest business practices.
Worked extensively as an engineering consultant / sub contractor to the largest oil & gas, power consultants and ultimate clients in India and abroad. A few of them of repute have been mentioned below:
Parsons E&C – Worley – McDermott – Stork / Comprimo – Technip – Engineers India Limited - Bharat Petroleum - Hindustan Petroleum - Reliance Petroleum – ONGC – Larsen & Tubro – Bridge & Roof – DCW Ltd – Tecnimont – AKER – VETCO Aibel – Jacobs Engineering – Sem-bawang – VECO Canada – PETROFAC – Hindustan Zinc – MESSO AG – ADMA OPCO – GASCO – Qatar Petroleum – Engineers India Limited - Oman Refinery & Petrochemicals – Baghdad South Electricity – SAKR Power – Foster Wheeler – Nuclear Power Corporation – NOCIL – FLUOR – Bechtel – JGC – Black & Veatch – TRIPATRA, Indonesia etc.
Managed an office of 200 professional qualified engineers, designers and draftsmen Undertook projects in all disciplines of engineering from concept (post feed) to detail engineer-ing Provided inspection and expediting services Seconded competent technical manpower to client's offices in India and abroad, assisting them with smooth operation of their projects. Secondments were on long or short term basis in all disciplines Assisted clients through the office with recruitment of technically qualified engineers / designers from the local talent pool available through a database of over 40,000 personnel held in-house Initiated relevant standards / IT integration within the organization, to match international standards. Established services such as Stress Analysis, Equipment Design, FEA, Fire Water System Analy-sis Accredited with the certification of ISO 9001-2000 in 2001 from ICS, UL and now TUV NORD Worked on 3 major customer service groups – Hydrocarbon, Mineral & Mining and Power
Major achievements:
Nuclear Power Corporation – TAPP 3&4 involvement on the 2 X 540 Mw PHWR reactors
Baghdad South Power Station MOE – 400 Mwe Power Station - 16 X 25 Mwe GE Frame 5
SAKR Power Station – Design and Engineering for Diesel Power Generation
Alumina Plant – INDALCO, Muri
Iron Oxide Plant Yellow Pigment Grade – DCW Ltd
Tankages and Silos, Mitsubishi Heavy Industries, Japan – Haldia Petro
Polyester Chip Plant – Malanpur – Flex Chemical Industries Limited
NPK and DAP Plants for IFFCO and Zuari Agro – HDO
1984 - 1985
Executive Director, Chemicon Engineering Consultants Private Limited (CECL), Mumbai
Acquired 1/3rd shares of the organization due to the retirement of a Director through a sale As Executive Director of the company, organized CECL to handle projects of all sizes in the power, mineral & mining, hydrocarbon and other process plant industries. Diversified into taking up fertilizer and pesticide projects as part of detail engineering assignment. Modernized the office IT structure to initiate CAD stations and engineering on proprietary software Initiated projects in house for international consulting firms, as a back office
1984 - 1985
Project Engineer, Chemicon Engineering Consultants Private Limited (CECL), Mumbai
A design and detail engineering company, established in 1976 after the closure of MONECO Inter-national – Canada, the first Company to provide engineering services for the Rajasthan Atomic Power Station in Kota, Rajasthan Joined as a Project Engineering worked on the following major projects: 500 & 235 Mwe Nuclear Power Corporation Plants inside RAB & Reactor Aux buildings – Complete Detail Engineering
Fire Water System design for MGCC – Nagothane
Crude Tank Farm 12 X 10,000 m3 – ONGC, Kalol and Mehsana
1984 - 1985
Project Engineer, Litton Systems, Toronto Canada
Quality & testing for the F16/F18 Laser Ring Gyros, which were designed and manufactured at Lit-ton
Education
Bachelor of Technology – Metallurgical Engineering, Toronto - Canada, 1983
Bachelor of Science – Physics / Chemistry, University of Mumbai - India, 1979
Registrations/Affiliations
American Society of Mechanical Engineers (ASME) - Member
Society of Piping Engineers and Designers - SPED
Specific Technical Expertise/Specialist Courses
Design of Petroleum Storage Tank Design and Construction – Institute of Engineers Singapore